THE WARWICK COMPOUND, near the site of the old town of Warwick, consists of Clay Lancaster's home and three architectural follies that he designed and built.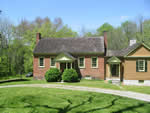 The Moses Jones House
The Moses Jones House, constructed between 1809 and 1811, is the oldest building within the complex. It is one and a half stories, brick in Flemish bond, with a wood-frame – originally log – kitchen addition.
The foremost architectural feature of Warwick is the front portico. It is built as a freestanding structure with four columns along the outer side and two against the brick wall. At one time there probably was a similar rear portico. These porticoes were among the earliest on a residence in Kentucky.
The house was acquired and restored by Clay Lancaster in 1978 when he returned to Kentucky after living in New York City, Brooklyn Heights, and the island of Nantucket, Massachusetts.
The Tower
The Warwick tower derives from Clay's long fascination with the octagon in nineteenth-century American architecture.
In his Architectural Follies in America (1960) Clay extensively surveyed the architectural history of the octagon, citing Poplar Forest, Thomas Jefferson's Bedford County, Virginia, retreat. In the nineteenth century A Home for All; or The Gravel Wall and Octagon Mode of Building encouraged the use of poured concrete to make 135-degree angles. A Home for All, published in 1848 by Orson Squire Fowler, a well-known phrenological expert of the day, said the octagon form gave optimal exposure to good light and air. Fowler himself built a sixty-room octagonal house near Fishkill, New York. Inspired by Fowler's popular treatise hundreds of octagonal buildings were constructed.
Still standing in Athens, the original octagonal Tower of the Winds continues to fascinate students of architecture, while Clay's Tower brings to the Bluegrass a key form from antiquity.
The Tea Pavilion
During his years at Warwick, Clay Lancaster designed a small banqueting house with eighteenth-century architectural features. The tea house and the tower were undertaken by Williamsburg-trained builder and craftsman Calvin Shewmaker.
The Picture Gallery
Clay's last design built at Warwick was a modern building which houses a collection of his paintings and serves as a gathering space for groups.
---
Photographs of the Tower, the Moses Jones House, and the Tea Pavilion by Helm Roberts, 18 May 2003.